NEW! Experiences by MagicBreaks
We are so excited to have just launched Experiences by MagicBreaks, a hand-picked selection of lifetime experiences that will provide magical memories for all. We hope these will provide inspiration and desire for magical moments with all of the family.
Our very first experience to share is a luxurious break to Lapland, the home of all things Christmas!
Stay in a designer treehouse hidden among the forest, enjoy indulgent dining, a thrilling dog-sledding trip and even a magical elf-guided visit to Santa's Secret Command Centre. It really is the holiday of dreams!
What's included?
• 3 nights' accommodation in an Arctic Treehouse Suite
• Return flights to Rovaniemi, with luggage
• Return airport transfers from Rovaniemi airport
• Half board: breakfast & a 3-course evening dinner
• Private excursion to Santa's Secret Forest
• 1-hour husky sledding excursion
Prices start from £2,995 per adult and £795 per child for arrivals on 4th December 2020*, however we have lots of dates, durations and departure airports available to cater for all.
Let's find out more about where you could be staying…
Arctic TreeHouse Hotel
Your Luxury Santa Break will include a 3-night stay at the stunning Arctic TreeHouse Hotel, located in the snow-laden forests near Rovaniemi. This premium glass-fronted hotel combines both cutting-edge Scandinavian design and all the snugness you could want from a stay in the Arctic.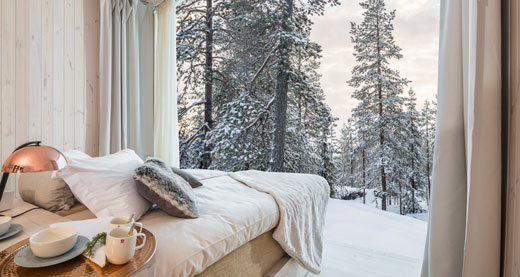 The luxurious Arctic TreeHouse Suites boast floor-to-ceiling windows, facing north from your forest canopy vantage point to make the most of Northern Lights displays! Plus, mock-fur-clad armchairs, cosy duvets and log-burning stoves make this the perfect place to relax after a day of exploring the snowy Arctic.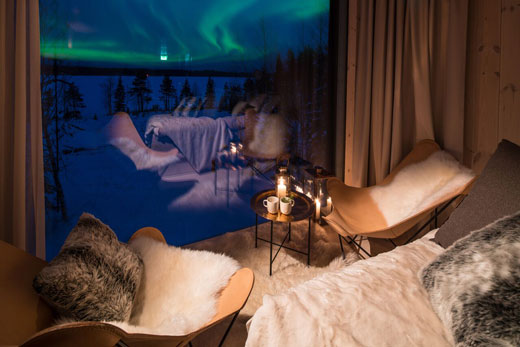 Plus, you'll enjoy indulgent dining at the hotel's restaurant Rakas; serving up a modern take on tasty Lappish dishes, from forest mushroom tartare to homemade berry cheesecake.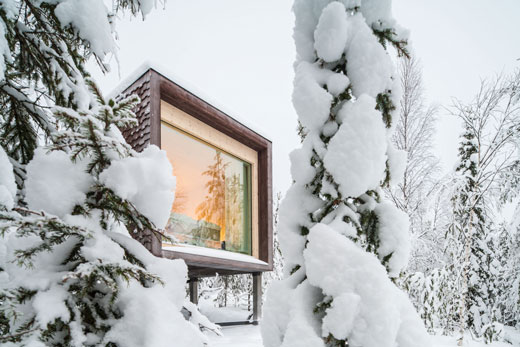 Included Excursions
• You'll be welcomed by one of Santa's faithful elves, who'll guide you through the legendary Elf School
• At Elf School you'll learn crucial Christmas skills, for example the fine art of gingerbread decoration
• After graduating Elf School, you'll be led along the Fairytale Path through the forest, trying kick sledding along the way
• Once you arrive at Santa's Secret Command Center you'll get to watch the elves busily prepare for Christmas, before meeting Santa Claus himself!
• You'll then be taken back to your cosy treehouse for an indulgent dinner
• Each child will also receive a present from Santa!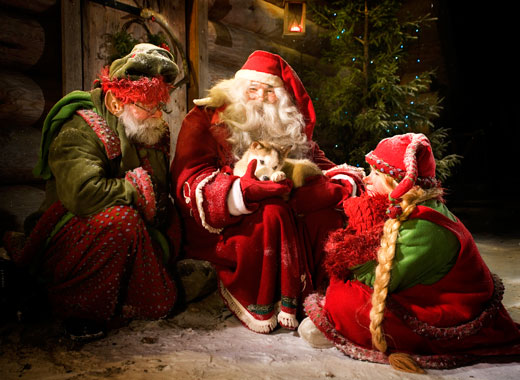 Husky Sledding
• After breakfast you'll be met and escorted to a nearby farm for a chance to meet the adorably sociable huskies
• You'll then board a sledge and head out into the quiet wilderness
• You will stop halfway, giving you time to enjoy the peaceful surroundings before heading back for dinner at the hotel
• Please note that private husky sledding can also be booked for a supplement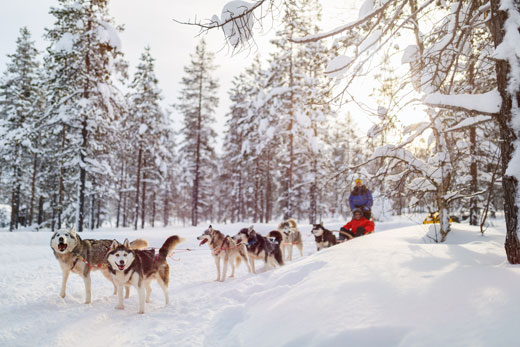 I hope you would agree, this really is an experience of a lifetime and it will create extraordinary memories for you and your family.
Click here for more information about our brand-new offering and keep your eyes peeled for further incredible 'Experiences by MagicBreaks'.
Book your stay today by calling 0330 880 5001.
*Terms and conditions apply, click here for more information. ©Visit Rovaniemi.