Virgin Voyages
Click here to enquire now about UK Breaks

Experience a magical staycation at sea!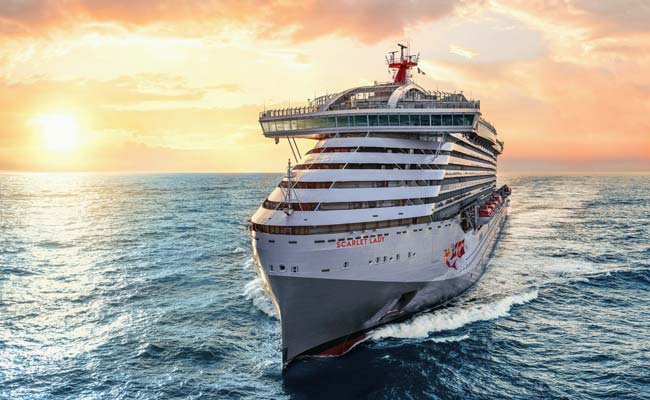 UK Summer Soirée Series
This August Virgin Voyages' Scarlet Lady will set sail on a homecoming tour off the English coast on three and four night sailings.
Imagine the wind blowing through your hair, the sun on your face and evenings filled with the orange and indigo sunsets that we've all missed so much! You could be one of the first to experience sailing on the new Scarlet Lady! Explore the 20+ eateries, fantastic fitness spaces and get your proper dose of vitamin sea at the onboard spa.
After the last year we all deserve some excitement and adventure, and so Virgin Voyages are making it happen! There are limited six sailings available on the Scarlet Lady - book fast to ensure you don't miss out! Choose from the 4 night Summer WeekDaze voyage and the 3 night Long Weekender voyage; or book both back-to-back for a full week at sea!
Our UK call centre is open 7 days a week from 9-6pm, where our fully trained travel agents are happy to provide independent travel advice and quotes. We can help personalise your cruise experience and pre-book onboard activities!
Adult-by-Design 18+
Your inner-child is highly encouraged to come out on these fantastic adult-only cruises.
WiFi Included
Browse, post and stay connected at sea with WiFi included whenever and wherever you are on the ship.
All Food Included
Guests can explore the 20+ eateries onboard the Scarlet Lady, from refined dining to relaxed casual, all included in their cruise.
Tips Included
Virgin Voyages take care of your servers and so cover the gratuities for your onboard experiences.
Group Workouts Included
Choose from a fantastic range of group workouts onboard, from yoga and meditation to cycling and HIIT classes.
Select Drinks Included
Stay hydrated with still and sparkling water, non-pressed juices, sodas, teas and even drip coffee.
Health & Safety
Virgin Voyages are committed to a healthy and safe start at sea. With the Voyage Well initiative - which includes but is not limited to, enhanced cleanings, contactless experiences, a new air purification system, reduced capacity, and frequent testing and vaccine requirements - Virgin Voyages have made sure that sailing safely is their top priority.
Important: At this time only residents of England, Scotland, Wales and Northern Ireland will be sailing on the Summer Soirée Series - with guests aged 18+ vaccinated against COVID-19. Additional testing and protocols will be confirmed closer to sailing - all in line with the most up to date recommendations from the UK government.
To avoid disappointment, discuss your cruise holiday today by calling our dedicated team on 0330 880 5114. Our hassle free booking process means all you have to do is get ready to set sail; all aboard!
*Prices are as a guide and subject to change.

Call us for more information on 0330 880 5114.